Three more infected properties – Sally Brooker: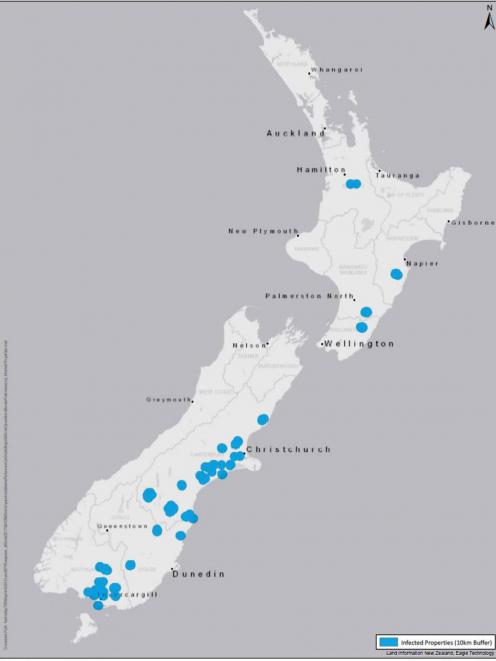 This map shows where infected properties are under quarantine lock-down, as at Thursday last week. Map: Supplied
A year and 100 official updates later, the central South Island is still in the grip of Mycoplasma bovis.
The bacterial cattle disease has never been far from the headlines since it was confirmed for the first time in New Zealand on a dairy farm near Morven on July 22 last year.
The Ministry for Primary Industries, via its new Biosecurity New Zealand arm, released its "Mycoplasma bovis response stakeholder update 100" late on Friday afternoon.
The map included showed Central Rural Life territory liberally sprinkled with blue blobs denoting infected properties.
The three latest ones discovered were all in Canterbury, connected to other known infections through animal movements. . .
MPI rules on transporting in-calf cows – Sally Rae:
The Ministry for Primary Industries says transporting heavily pregnant cows affected by Mycoplasma bovis is a last resort.
New Zealand Veterinary Association members have been asked to certify late-gestation cows as being fit-for-transport to slaughter premises.
NZVA advised members not to certify within four weeks of the planned start of calving, even if the cows were caught up in the mass culling required to eradicate the disease. . .
 With supermarket groups reacting to fickle ginger group pressure, consumer options become inconsistent in the supermarket aisles, and local farmers lose out to lower standard imports –  Guy Trafford:
One of the issues current food producers have is trying to satisfy a number of masters. The New Zealand pork industry is a classic example.
The general public require that pigs are reared in what are perceived to be systems that meet animal welfare requirements and many consumers desire pork that has been reared in a free-range requirement. These aims to produce a more 'ethical' food come at a cost to the producer. . .
 Zespri chair awarded horticulture's Bledisloe Cup:
An outstanding leader in the kiwifruit industry, Peter McBride, accepted horticulture's premier award, the Bledisloe Cup, at the Horticulture Conference 2018 on Tuesday, 24 July.
Very similar to the famous rugby Bledisloe Cup, horticulture's version was one of three cups Lord Bledisloe presented to New Zealand in 1931. . .
Seeka to Invest $18m in Northland Post Harvest Business:
Seeka Limited has announced plans to invest $18m in its Northland post harvest business over the next three years. Seeka is investing in new post harvest capacity, packing machines, packing shed and coolstores in Kerikeri. The investment will significantly lift the capacity of the business and give growers better harvest timing across all varieties handled – kiwifruit, avocados and citrus. The announcement was made to Seeka's Northland growers meeting earlier this week with the Far North District Council Deputy Mayor, Tania McInnes, in attendance. . .
Wall to wall sunshine – Hannah Binns:
Yesterday the BBC Breakfast team visited our farm to learn about how the prolonged period of dry weather is effecting farmers (in particular livestock farmers) across the country.
Whilst Polly may have stolen the limelight with her best-behaviour and displays of affection for the presenter, the issue is extremely serious and worrying for all involved in British farming since everyone is in a similar situation. Don't get me wrong, it has been lovely to have such nice weather – I can't remember a summer when I wished it would rain!
Here's why the recent weather is so problematic for livestock farmers up and down the UK – feel free to do a rain dance once you have finished reading! . .