Kim Dotcom has been threatening us with revelations that will gift the election to Labour and the Green, New Zealand First and Internet Mana parties.
Guy Body nails my view: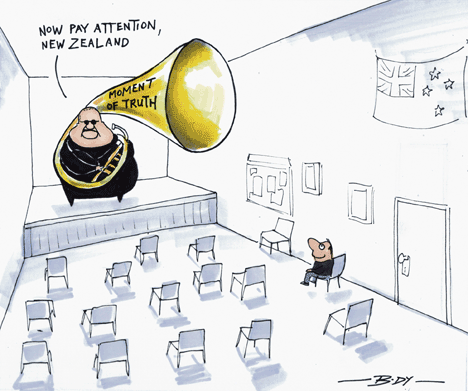 What we've learned over the weekend suggests he's over-promised and will under-deliver.
John Armstrong says tonight's his last chance:
. . . Dotcom's "moment of truth" must be a moment of proof. He must prove that the Prime Minister has not been straight with the public, firstly regarding exactly when he became aware of the Megaupload mogul and, secondly, that the intelligence agencies for which John Key has ministerial responsibility have conducted mass surveillance.
There can be no room for doubt. There can be no reliance on the circumstantial. There can be no shifting of goalposts by saying the fuss is all really about New Zealand spying on other countries.
If tonight exposes Dotcom as nothing more than a big-noting charlatan who has attempted to hijack the electoral system, then the public backlash could be withering.
Dishing the dirt on Key in the last week of the campaign may have seemed a clever move when the idea was first mooted within internet-Mana. It may yet be the final humiliation for the parties of the left in an election campaign that has been turning into a disaster for them.
This isn't just about party politics, it's about national security.
The timing was fortuitous for Key, but the news that Australia has raised its terror alert to the second-highest level would have sent more shudders down more spines than any filing cabinet full of the documents that Dotcom and the American journalist Glenn Greenwald may have.
It brings terrorism very close to home. It underlines the unwritten post-9/11 contract between the state and individuals.
That contract has the individual tolerating giving up some rights to privacy in return for — to put it bluntly — not being killed by a bomb blast in some airport somewhere. . .
The left are against foreign investment but  are quite happy for foreigners to highjack our election to advance their personal and political ends.
Dotcom has a personal vendetta against our PM and is going to great lengths to try to stop National's re-election and his own extradition to the USA.
That's where journalist Glenn Greenwald is from and he admitted to Steve Braunias his timing this close to the election is deliberate:
I think it's entirely legitimate for a journalist to think about how to maximise public awareness of the reporting that you're doing. And I knew that by physically travelling here, at this time, when the citizenry is most engaged politically, that would present an excellent opportunity to bring as much attention as possible to these matters. . .
Different journalists have different views on what the proper role a journalist is. I've been very clear that I'm not neutral on the question of mass surveillance. It's dangerous and I oppose it. I'm supportive of political parties around the world that have made it an important part of their platform to work against it, whether it be the Green Party in Europe or the Green Party here, or the Internet Party, or the Techno Pirate party in Sweden. . . .
Ah yes, the Green Party which like Greenpeace has a much harder red agenda than the soft green front it tries to promote.
That agenda could threaten our security.
The executions of journalists and aid workers in Syria is a long way from New Zealand but there are people here who support that evil and are working to spread it.
Terrorism could not just be closer to home it could be at home.
P.S. Nick K at No Minister writes on personal experience of surveillance.